– Behind the Scenes of the Covid-19 lockdown –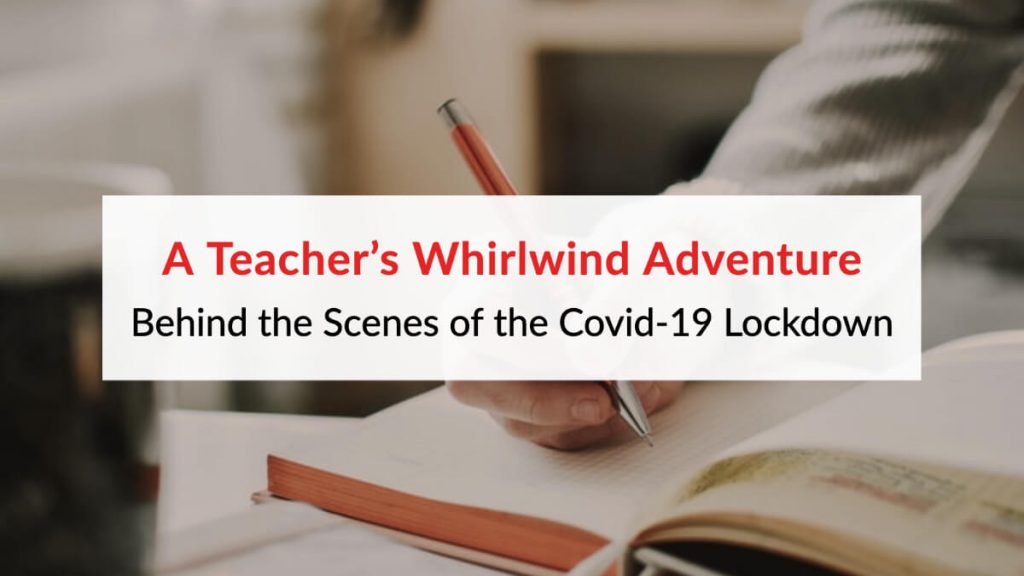 By Tan Hwee Yong
Just taking what you have and making it 'digital' is a guaranteed failure

~ Drew Brown, CIO at Union Bank and Trust
Covid-19 – A catalyst of change
The Covid-19 pandemic practically forced schools to go virtual with no other options in sight. Overnight, teachers and students were thrown in at the deep end. My school was no exception. Stress and anxiety reigned at the beginning of the steep learning curve but our team of dedicated teachers, supported by our capable IT and admin staff, was determined to overcome the challenges. My colleagues and I went through intensive in-house training sessions with the aim of duplicating the physical school online, so that there would not be any lesson interruptions or lost school days. With the many choices before us, we finally chose to incorporate asynchronous learning through Google Classroom to complement synchronous learning on Zoom live-streaming lessons.
A new perspective
It was an intense journey of learning and changing my perception regarding education and teaching. On top of the daily onslaught of parents, teachers and students' online classroom struggles, I immersed myself in webinars, both local and overseas, to upscale my online teaching skills. I relished the many learning opportunities that presented itself during this pandemic and was so grateful that many publishers and apps developers shared their educational resources and apps for free! The fact that I, a technology dinosaur, could get to try out the myriad of free online resources to deliver engaging Economics lessons was so empowering, to say the least.
A tech dinosaur discovers e-learning apps!
My journey of learning opened up a whole new world of educational apps! I was introduced to Pear Deck in a webinar run by a professor from Chung Yuan Christian University in Taiwan. The speaker commented that Pear Deck is a must-have for all teachers – a statement I began to appreciate after trying the friendly templates from its templates library. It did wonders to my online lessons! Discovering how to use Kahoot, Quizizz and Whiteboard.fi to get instant feedback on the students' learning was so satisfying as my students responded with much excitement. Occasionally, I also organised my students in Zoom break-out rooms for group discussions and peer collaborative learning. My colleagues also explored how to engage students through games and interactive content using Socrative and Genial.ly. We also organised online assessments through exam.net, an established online assessment platform used by the National Agency for Education in Sweden. As educators, we have to move with the times and learn to deliver online lessons and assessments effectively. Having said that, I still really miss the face-to-face interactions, especially the 'Aha! I get it,' moments that make every teacher's day!
Zoom fatigue and cooped-up-at-home blues
In my quest for knowledge, I also learned from the experts in the field of psychology that our students were suffering from zoom fatigue and cooped-up-at-home blues, and we, the educators, needed to support and promote their mental well-being as well, and not just focus on catching up with the academics. Play therapy seemed to be one major way to train mentally resilient children in times of crisis such as this. It was also extremely important to harness parents' involvement through frequent communication during the lockdown for a seamless transition to online classrooms that saw to the specific needs of individual students.
A salute to teachers
From this once-in-a-lifetime experience, I believe all of us educators found that online teaching is not an easy task! Many assume that since teachers get to work from the comfort of their homes, they must be having an easier time. I however, can attest that nothing can be further from the truth! Our teachers had to spend many intensive extended hours learning the technical aspects of teaching online, on top of which, they had to re-work each lesson to be online friendly, plus try their best to figure out how to reach out to the 'muted' faces of their students on a computer screen! Though the going was tough, the opportunity for self-development was exhilarating! I salute all my colleagues who have worked tirelessly throughout the MCO to ensure our students do not lose even one single school day. Together, we strive to embrace the new norm in school.